Cotswold Farm Park:
It's More Than Just Your Usual Farm
The 25-acre Cotswold Farm Park, which is located adjacent to the old Roman Road, looks like any typical family farm planted with mixed crops and filled with livestock.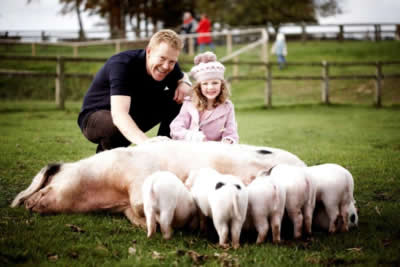 Photo Courtesy of cotswoldfarmpark.co.uk
kate.henderson@cotswoldfarmpark.co.uk
A closer look reveals that it is more than just a typical English farm or a typical English park although many of its facilities, amenities and activities certainly appeal to the sensibilities of individuals with these venues in mind.
The Farm Park is actually the United Kingdom's premier rare breed survival centre. Kids are welcome in the Cotswold Farm Park with age-appropriate activities designed to nurture their love for animals, farms and play. Self-propelled roller racers and battery-operated tractors are available for kids with ages 3 to 12 years old to race on while younger ones will love the pedal-powered tractors.
What is playing in a farm without the sandpit? The ocean may be miles away but the owners of the Farm Park have generously provided kids with the opportunity to play in the sandpit and make sand castles, among other things, with toy trucks, tractors and diggers.
Other play activities for children are done outdoors. Kids can choose from among a giant jumping pillow, a Lion Maze, an adventure playground and a farm safari while their parents are out discovering the joys of farm life.
Discover, Explore and Learn
Kids and adults alike love the numerous opportunities offered by the Cotswold Farm Park to discover, explore and learn new, exciting things. Touch the little inhabits at the Touch Barn. Staff members are on hand to answer your questions.
Get first-hand experience with farm work at the Demo Barn. Activities include feeding milk via bottles to lambs and goats, shearing the wool off sheep, and milking the cows. Of course, the opportunity to see many of the rare breeds of farm animals in the United Kingdom cannot be missed. This is, after all, the main reason why guests flock to the Farm Park.
Guests can stay for extended periods of time at the camping and caravan areas of the Farm Park. With such great activities to look forward to, staying is indeed something to be excited about.
If you have any questions visiting Cotswolds and would like to ask Dianne, the owner of this site, you can contact her.
You might also be interested in these other Cotswolds Activities and Cotswolds Attractions: