Cotswold Edge Golf Club:
Where Even a Bad Round Can Be Good
The Cotswold Edge Golf Club is one of those golf courses where even a bad round of golf can be good albeit in a way different than that reflected on the score card.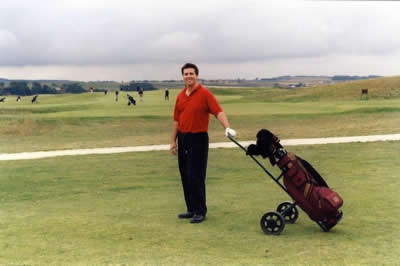 How? Its magnificent scenery is sufficient reason to just enjoy the day's beauty and the opportunity to play golf in such a beautiful place. Besides, there's always tomorrow to make that hole-in-one multiple times.
Year-Round Plays, Almost
Because of the great climate of Cotswold, an Area of Outstanding Natural Beauty in England, playing in this par-71 golf course is possible virtually the whole year round. Inclement weather cannot be helped, of course, although it is still possible to relax in one of the club's lounging facilities or buy golf accessories from the shop.
And of course, players at the Cotswold Edge Golf Club enjoy the magnificent views from anywhere in the course. The Cotswold escarpment provides for the best views with Severn Vale, Wotton-under-Edge and the Malvern Hills just a few of the landscapes as far as the eye can see.
Challenging Plays
Obviously, golfers want to test their skills in the challenging sport and the Edge Golf Club does not disappoint. The front nine holes are laid out in the conventional parkland scheme while the back nine holes will challenge professional players to do their best. The course totals just 6,000 yards but this is one of the most enjoyable 6,000 yards you will play in your career, be it as an amateur or a professional golfer.
The Cotswold Edge Golf Club is also the venue for numerous open competitions. These competitions include the Ladies Coffee Morning, the Mixed Open, the Ladies Open, the Seniors Open, the Pro-Am, the Carter Charity Day, the Seniors Vintage Open and the Junior Open. We suggest calling the office for more information on the dates as well as rules and regulations regarding these tournaments.
Elegant Plays
We are not talking about the elegance of your golf plays ala the likes of Arnold Palmer and Tiger Woods. We are instead talking about the dress code for golfers on the links. This is not about being snobbish either. Golf is akin to religion for most players so it is only right that one dresses for a place of worship, so to speak. Besides, wearing the proper attire will help in making that hole-in-one shot in so many ways.
The Cotswold Edge Golf Club requires golfers to dress in appropriate clothing that includes but not limited to tailored trousers, tucked-in collared shirts and recognized golf shoes. These can be bought from the golf shop, too.
If you have any questions visiting Cotswolds and would like to ask Dianne, the owner of this site, you can contact her.
You might also be interested in these other Cotswolds Golf: