Discover the Best Cotswolds Inns Now and Enjoy These Tomorrow!
Your quest to discover the best Cotswolds inns starts in the here and now! Along with these delightful discoveries in budget-friendly accommodations, you will also discover the joys of the English inn.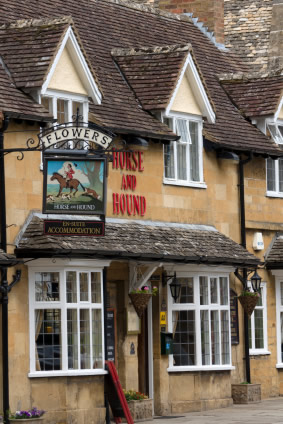 It has been an integral part of English life for 900 years with many inns-cum-pubs actually serving as the centre of community life especially in the old market towns. Today, the best way to enjoy the local lifestyle and to enjoy the company of the locals is to check in to one of the following English inns.
The Crown & Trumpet Inn
The Crown & Trumpet Inn has every reason to trumpet its services. Located behind Broadway's village green, this 17th-century inn has 4 rooms equipped with country-style furniture and furnishings coupled with modern services like the free Wi-Fi connection.
Lunch and dinner are made from scratch using locally-produced ingredients with the mulled wine and hot toddies serving as the beverage counterparts to the delicious dishes. Music particularly jazz and blues soothe the soul here.
The Inn for All Seasons
To discover the best Cotswold inns, you must travel to The Inn for All Seasons located in Burford. This is a 16th-century cosy coaching inn with well-furnished bedrooms including a four-poster room, a family room, and dog-friendly rooms.
It also has a restaurant and bar-and-lounge wherein guests can enjoy delicious dishes and desserts made from locally-sourced ingredients including fresh fish delivered daily. We suggest ordering the house wine and local ales to go with your food.
The Red Lion Inn
Yet another must-see establishment in your quest to discover the best Cotswold inns is The Red Lion Inn located in Long Compton. It has been recommended by the 2010 Michelin guide and the 2010 CAMRA Good Beer Guide for its superb food, fine wines and excellent ales, among others. Did we mention that it has also been awarded the prestigious AA 4-Star Inn and 1 AA Red Rosette distinctions?
Indeed, at the Red Lion Inn, you can laugh, eat, drink and sleep in one location. You may never even want to see the countryside considering the joys you will find here! The luxurious bedrooms have ensuite facilities coupled with amenities like tea/coffee-making utensils, free Wi-Fi, flat-screen television and even homemade biscuits.
The Horse and Hound Inn dates back to the 17th century and is built in traditional honey coloured Cotswold stone. This Inn has 5 bedrooms all with en-suites and beautifully decorated.
Breakfasts and dinners are all home cooked.
Walkers enjoy staying here as the Cotswold National Trail is on their doorstep.
The Castle Inn Hotel Castle Combe
This 12th century Castle Inn is situated in the picture postcard village of Castle Combe. As you can imagine it has an incredible history which you will hear about when you arrive - a wonderful atmosphere with a beautiful conservatory for dining and a garden terrace awaits you.
Bedrooms are tastefully decorated and all have en-suites.
Indeed, if you discover the best Cotswold inns, you should be prepared to enjoy the best that English country living has to offer.
If you have any questions visiting Cotswolds and would like to ask Dianne, the owner of this site, you can contact her.
You might also be interested in: