Cotswold Holiday Rental:
Set in Paradise
Cotswold Holiday Rental cottages have always had a picturesque charm about them that you cannot help but be delighted.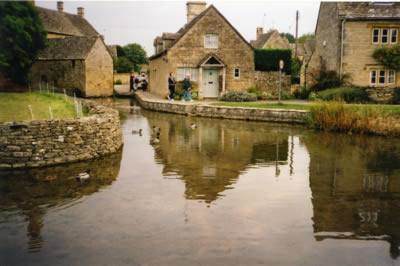 Each cottage takes its visitors back in time, a time when life was a more relaxed pace, easier on the body and soul and a time when paradise on Earth was a reality.
Charming and Charmed
It's not just the structure of these charming - and charmed, many will say in wonder – cottages that appeal to visitors to the Cotswold area. The countryside of rolling hills, farm fields and quaint limestone villages spread over 787 square miles is a large part of its attraction for national and international tourists.
Typically English – verdant green, awe-inspiring in its expanse, and beautiful on all fronts – is the most common compliment accorded to the area. The following Cotswold Holiday Rental cottages are no strangers to these compliments either.
Bakehouse Cottage
The Bakehouse Cottage at Amberley Bakery is so named because it was a former village bakery, which was transformed into a cosy home before the present owners decided to let it to visitors. The views from here are magnificent including the Minchinhampton Common, a place suitable for hiking, biking and horseback riding. The village, a short walk away, offers the delights of an English place with 2 pubs, a church and a shop-slash-post office, among others.
The facilities inside the cottage are comfortable with well-equipped bedrooms, kitchen and living room decorated in the old English style. Central heating coupled with a wood burner keeps visitors warm when the weather gets a tad too cold for comfort.
Manor Farm
Yet another delightful Cotswold Holiday Rental cottage is Manor Farm. This is a converted single-storey barn, which explains its cosy log burner, exposed beams and flagstone floors. Its rooms are fully equipped with modern appliances that belie its cosy setting while Netizens need not worry about being cut off from the world – Manor Farm has free Wi-Fi connection.
The land surrounding the Manor Farm is definitely something to write home about. Think about this: 500 acres of land planted with maize and wheat barley, hundreds of cows dotting the landscape, and magnificent wildlife. Add in the fact that the cottage is accessible from attractions like the Westonbirt Arboretum, the Castle Combe and Malmesbury and you have just found the perfect place to be in whilst in England.
Indeed, there is no better way to truly enjoy your stay in England's largest Area of Outstanding Natural Beauty than Cotswold Holiday Rental cottages. Ask around, search online, and book with the owners to start your wonderful journey through the English countryside.
If you have any questions visiting Cotswolds and would like to ask Dianne, the owner of this site, you can contact her.
You might also be interested in these other Cotswolds Accommodations: